Mobile Banking App
Manage your money from anywhere
Download the Metropolitan Services Credit Union App from your device's App Store (Apple or Android).

When you open the app, you will be prompted to enter your current Virtual Branch logon ID & Password.
***Minimum length for logon IDs is 6 characters. If your Virtual Branch logon ID is shorter than 6 characters, add zeros to the beginning to reach 6 digits.***
Answer the challenge question if presented with one.
Enter your Virtual Branch security code.

Once your identity is verified, you're logged in and ready to start banking. Watch the video below for more usage tips and instructions.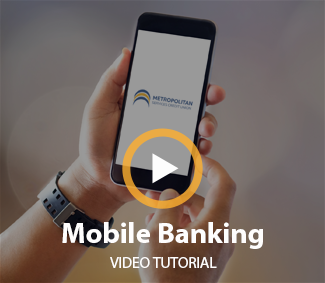 You can also send the app link to your phone
Instead of downloading the app directly from the app store, you can:
Log into your account via Virtual Branch.
Click on the "Self Service" tab.
Go to the "Additional Services" area and select "Mobile Banking", then click OK.
Check the box that says "I accept these Terms and Conditions" then click "Continue".
Choose the type of phone you have, enter your phone number and click on send. The link will be sent to your phone.
Click on the link to download the app and proceed with step 2 in the download instructions at the top of this page.
Remote Deposit App
Signing up is easy!
Download the Metropolitan Services Credit Union App from your device's App Store (Apple or Android).

Sign Up. You will receive an email notice when approved.
Once approved—open the app, sign in and key in your deposit amount, take a photo of front and back and submit….
That's it!
Within seconds you will see confirmation that the deposit was received via email.
Interested in Joining Our Credit Union?
Member of the Minnesota Credit Union Network, CUNA and regulated by the NCUA.
Linked sites are not under the control of Metropolitan Services Credit Union. MSCU is not responsible for the contents of any linked site or any link contained in a linked site, or any changes or updates to such sites. Linked sites may contain rules and regulations, privacy provisions, confidentiality provisions, transmission of personal data provisions, and other provisions that differ from the provisions of this web site.